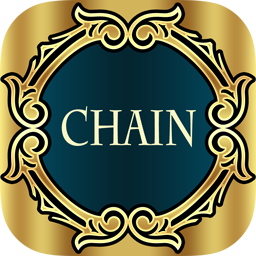 Chain: Deluxe Card Solitaire is your adventure in the
classic solitaire world together with your friends!
If you like Freecell, Hearts, Spider, Tripeaks, Pyramid, Club, Diamond classic solitaire games or mahjong games, you definitely will love this ultimate beautiful vintage(but not a retro) style addictive game.
How to play:
– you have a deck of 52 cards, shuffled off course
– you have a table with cards from the deck
– first draw will open one card, that is a place where you need to move all cards from the table
– to move card select one with same value or suit with the top one
– if have no cards to move, select deck to draw next card
– you are in game while you have any move and time
– there are up to three rounds per game, if you done 1st well, you will get 2nd, if you are lucky to done well both, welcome to the Bonus Round!
– at the beginning of each round, you have to select 4 cards to drop them out from the deck to make the game more challenging
Features
– excellent HD graphics
– thrilling sound effects
– rewards for your achievements, and big rewards for your big achievements. For example, you will get reward of 2 gold coins after first 250 silver coins collected, and will get 4000 silver coins reward after the 250 bonus rounds played.
– the game is completely free, but if you wish, you can buy any gold or silver pack to boost your experience
– all-in-one friends integration: once connected to the Facebook, you will get your friends for competition, for challenge and for communication and help. Every your friend can help you with a live(heart) every hour 24/7.
Some words about the tournament
– here is no gambling, sorry, but you can win a great prizes
– 2 player rule : you can't play tournament alone
– every tournaments goes 2 days, but your patience will be rewarded with prizes, fun and challenge
– help your friends with a live (heart) as soon as you want to challenge them, they will get a notification from Facebook about your attention
Some tips
– use bonuses to boost your score. For example, taking the Freeze Bonus will get the ability to freeze the timer a couple of times.
– make fast combinations, Quick Hand is your friend on the way to higher score
– clean up all the cards, every cleaned top card(tower card) will give you more and more bonus points
– keep the deck as full as possible, every card there is your bonus points
– try to keep in mind all the cards you have dropped off at the beginning
– play bonus rounds, that is your biggest step to the top of the score table
– play fast, time is your score points too
– play smart, be the Champion!
Invite as much friend as you can to get more fun and challenge more friends.
You can invite your Facebook friends just inside the game, but don't hesitate to to use any other social network you now: Whatsapp, Twitter, Google+, Linkedin, Instagram and so on. More friends – more fun!
This game is available for various platforms: Windows, iPhone, iPad, Android, Amazon, so all of them will find our game for free.
We are quite sure that even fans of the other kind of puzzles, like Patti, Blitz and other mania and saga games, of any age, from teen to wisdom, you will love this best ever solitaire game.
And we have no doubt that towers better than the games like Pyramid, Fairway, Klondike, Arena and Blast or Tales. Chain just the best!
Take part and enjoy the game of Chain: Deluxe Card Solitaire – classic solitaire game!